More: Earthquaker | Effect Pedal
Earthquaker The Depths V2 Vibrato Pedal
Optical Vibrato with All-Analog Signal Path |
Item ID: EQDDEP2
Credit cards
Amazon Pay
Paypal
Google Pay
Apple Pay
Description
The Depths is Earthquakers take on the classic optical vibe circuit. Now you can swab the decks with the same lush, pulsating, three-dimensional swirling sound you know and love, with some modern accouterments for all you land-lubbers out there.
The Depths is optimized for use with all kinds of instruments, pickups, and to play well with dirt, so nobody's left waiting on shore. If it's got a ¼" output, plug it in and get deep!
 In addition to the classic vibe controls, the Depths features unique controls for "Voice" and "Throb." The "Voice" control adjusts the midrange focus of the Depths, which is perfect for tailoring the effect to your particular instrument. Clockwise, you'll hear a fuller sound with a low-end focus. Counter-clockwise, you'll hear a thinner, spikier sound with a forward upper-midrange bite.  The "Throb" knob adds a hefty subharmonic low-end pulse to the vibrato signal, which is especially useful on synthesizers and the bass guitar. It sounds great with a little bit of dirt on the neck pickup of a guitar, too! This works best with the "Voice" turned counter-clockwise for a warmer tone.
Controls
Voice

Dials in the overall sound.

Throb

This controls the low end pulse.

Intensity

This controls how subtle or intense the overall effect is.

Level

Controls the volume of the effect. Unity is around 1 O'clock, everything above that is boost.
Product Videos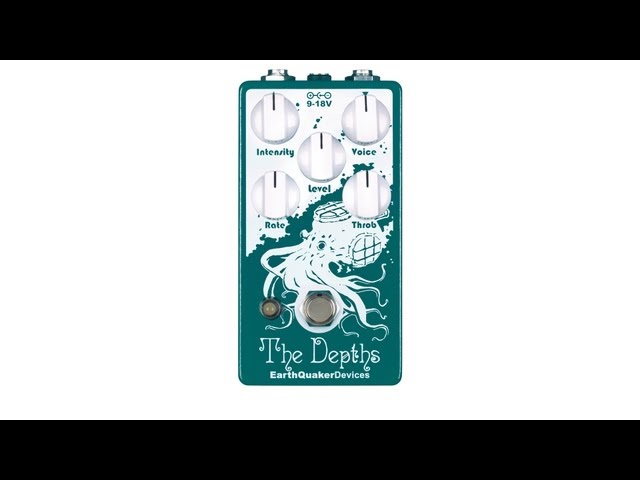 Warning: This product contains a chemical(s) that is known to the State of California to cause cancer. For more information, go to www.P65Warnings.ca.gov.